Art Auction in Aiken to Boost Local Veterans | Local News
One of the Marine Corps' most prominent heroes is on his way to visit Aiken in a few days, in support of a fundraiser to help local organizations such as Veterans of Foreign Wars and the American Legion.
Charleston resident James Livingstonewho retired as a major general, will be the guest speaker on November 10 at Art 4 Vets, an art auction to be held at South Side Galleryat 2258 Whiskey Road, from 5 p.m. to 9 p.m.
The Georgia native's honor came following his action in South Vietnam on May 2, 1968, with the 9th Marine Amphibious Brigade. He was a captain at the time and displayed "conspicuous bravery and fearlessness at the risk of his life beyond the call of duty" while serving as his unit's commanding officer, according to the Congressional Medal. of Honor Society. website.
The fundraiser will be held under a marquee, with creations from dozens of local artists on offer. The auction price of each item must be shared between the artist, the gallery owner and a local organization (chosen by the winning bidder) to support veterans. Admission to the event is $45 and includes dinner and two happy hour tickets.
Thom Abbott, co-owner of the gallery, noted that some of the artists whose designs are featured are military veterans. Among this group is retired home builder Stan Kliebenstein, an Army veteran (1968-1969) who served overseas. Kliebenstein, working from home, "now constructs wooden, usually American flags from recycled and repurposed materials", and some of his designs are currently on display in Abbott's gallery.
On board to benefit are the American Legion Post 26, Aiken Chapter of the Military Officers Association of America, Veterans of Foreign Wars Post 5877, Aiken Chapter of the Marine Corps League, the Naval Junior ROTC unit from South Aiken High School and the USC Aiken Office of Veteran and Military Student Success.
Auctioneer duties must be performed by a prominent local businessman: Andrew Sidersa former Marine now widely known as Vice Chairman of Aiken County Council.
The initial Arts 4 Vets event took place at the Southside Gallery in November 2021, with the guest speaker being retired four-star Army General Gus Perna, described in a MoD report as "the vaccine COVID-19 and the Therapeutic Czar", in charge of Operation Warp Speed. This year's fundraiser is to have a slightly different layout, to provide a drier environment in the event of rain, which caused some issues at the 2021 rally.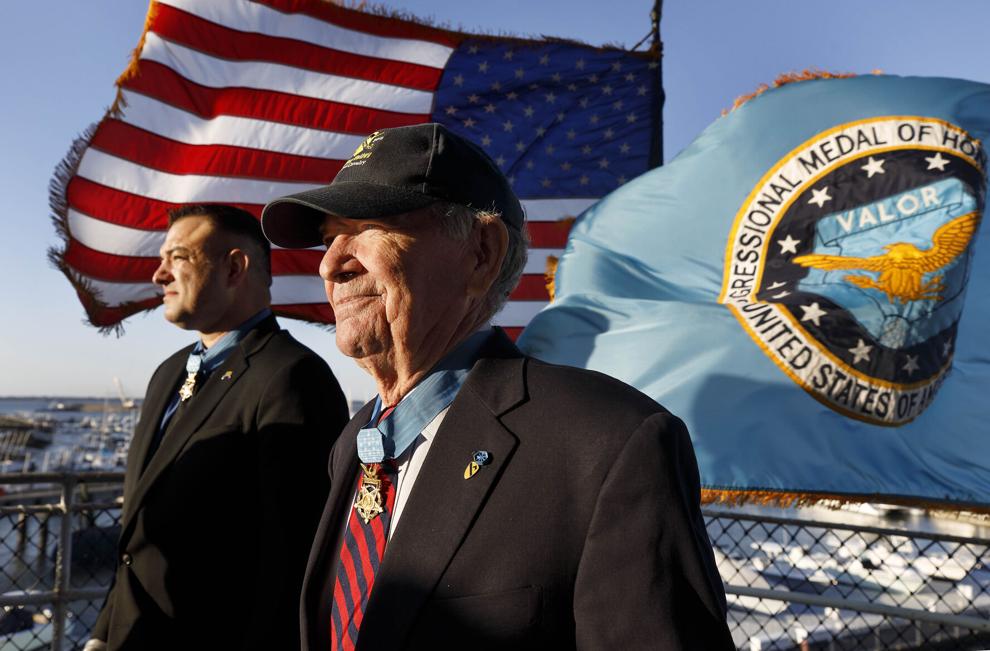 Livingston, this year's featured speaker, "became a trusted commander in his more than three decades of service" and "learned leadership skills early in his career and put them to use in 1968 when he helped liberate a Vietnamese village and rescue stranded Marines," as stated on a Department of Defense website. "For that, he was awarded the Medal of Honor."
He is expected to speak at around 7:15 p.m. and bring 38 copies of his book, 'Noble Warrior', for sale and signing, as well as six copies of a book, to be auctioned off, focusing on the recipients of the Medal of Honor. . About 100 works of art will be offered in a silent auction, Abbott said.
Livingston, now 82, grew up on the family farm in Towns, Georgia, about 100 miles west of Savannah, and retired Sept. 1, 1995, capping a 33-year career.